Basement Remodel Contractor in Raleigh, Cary and the Triangle Area
    From an increase in everyday efficiencies at home to financial value, finished basements provide many benefits to you as a homeowner. Of course, the number one desired result everyone is looking for is the extra square footage. Whether you plan to use it as a home office, exercise room, theater room, guest suite, additional storage, wet bar or even a wine cellar, this added space can make a significant difference in the quality of your everyday life.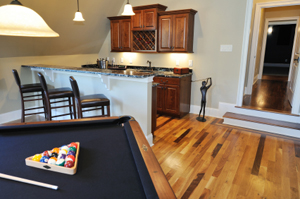 Other attractive benefits of a basement remodel include the value it will add to your home in terms of both a higher sales price and increased appeal to a buyer. It will also improve the energy efficiency of your home. Basements are naturally insulated by the ground around them and are not subject to above-ground climate fluctuations we see in the Cary, Raleigh and Triangle area, thus you can cool off during the summer months in your remodeled basement.
    Remodeling your basement includes obtaining city permits and passing inspections, building walls and supports, installing plumbing and electrical, adding duct work and so on which all require experience and construction know-how of a licensed professional.
    As a locally owned and operated construction company, when you work with Solid Builders, you will receive the benefit of working directly with the owner and General Contractor, Aaron Miller throughout the entire process. He will give you his undivided attention and make sure your basement remodel is properly designed to best utilize the existing space. He will ensure the basement is finished on time and on budget. Aaron's presence on the job ensures that all our work is completed with top quality craftsmanship and 100% customer satisfaction.
    Contact Solid Builders today to discuss how we can work together to remodel your basement in Cary, Raleigh and the Triangle area.