We Build Decks in Cary, Raleigh and the Triangle Area
    Living in the Triangle area, we enjoy a relatively mild climate throughout the year. Many of us take advantage of this luxury and spend as much time outside of our homes as possible. Building a deck onto your home will extend your living area to the outdoors and improve your ability to comfortably entertain family and friends.
    Today's decks are available in many styles and materials to fit your needs. Some of today's more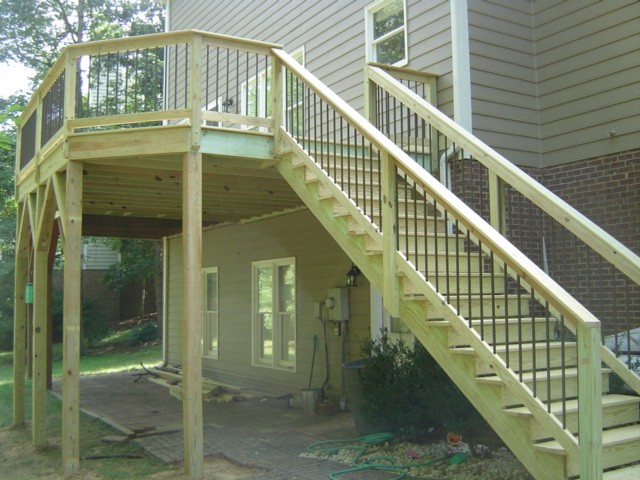 popular deck features include building a multi-level deck with spaces for built-in grills, screened dining areas, fancy railings, gazebos, trellis, and decks for custom pools and hot tubs. Solid Builders will work with you to create a custom designed deck that will meet your needs and suite your style while matching your home's architecture and landscape.
    At Solid Builders our #1 goal is to build top quality decks that will provide our customers with years of maintenance free enjoyment. This is achieved through our use of highly skilled carpenters and quality materials. We hand-pick each piece of lumber and use premium grade pressure treated wood or composite material. Many homeowners are choosing to have their decks built using this maintenance free decking which eliminates splinters, buckled boards and raised nail heads.
    You will also find that working with a locally owned and operated business provides you with a superior product and service. Solid Builders is a Cary based remodeling and construction company who takes pride in making sure that all work is completed with superior quality in a timely fashion and within budget. As the owner and General Contractor, Aaron Miller will be your direct contact throughout the entire project. His presence on the job will help ensure the highest standards of quality are met.
    Contact Solid Builders today to schedule a time to discuss how we can help you with constructing the perfect deck for you.